Untangle Firewall Solutions
Untangle create multi-function firewall solutions that make connecting to the Internet safer for your network, faster for your users and easier to manage for your Administrators. From under 10 users to 5,000 + we provide Untangle to provide a strong layer of defence for organisations of all sizes.
Untangle's network security solutions comprise of a rich series of individual applications that can be specified individually to create a high tailored defensive layer for your infrastructure. These include:
Protection - Antivirus, Antispyware, Firewall, Intrusion Prevention
Filtering - Application Control, Web Filtering, Spam Filter, Ad Blocker
Performance - Web cache, WAN Balancer, Bandwidth control
Connectivity - IPsec VPN, Open VPN and Captive Portal
Management - Policy Manager, Directory Connector, WAN Failover, Reports
We provide Untangle in three formats according to your business needs: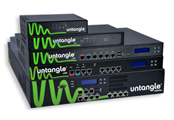 Software - Packaged bundles of Untangle's modules which are installed on to your existing hardware device
Appliance - A pre-built device containing specified application modules which we install into your network for fast defence delivery
Custom Built Solution, often integrated with pfSense to provide a comprehensive perimeter defence for larger organisations
Why Untangle?
In the security solutions market there are a number of solutions available that can provide you with a good level of defence. However, with Untangle you can enjoy far more comprehensive protection that rivals either do not offer - or charge you extra for the privilege.
For example:
Untangle not only offer two alternative antivirus engine but they can also be used together to give a double layer of protection
The web filter module lists over 450million websites - that's more than many other vendors put together
Untangle provide defence and network performance in one solution
Features such as remote access are extra cost with other vendor solutions
Untangle is also a a low-maintenance solution, requiring little maintenance once installed and freeing up your time to focus on the rest of your infrastructure.