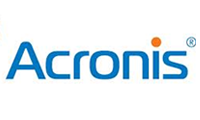 Acronis Solutions
We provide Acronis solutions to help you securely migrate, protect and recover critical data wherever it resides in your physical, virtual or cloud environments. With a Unified Platform and next generation technology, its innovative solutions are designed to ease the management burden and reduce total cost of ownership, while improving your recovery time objectives.
Acronis technology in our on-premise - to - cloud service utilises their patented disk imaging to capture files as well as server and workstation operating systems and applications.
The Logical Choice For Acronis Users
If you already use Acronis Backup & Recovery 11 software for local backup and recovery of your physical and virtual machines, adding our cloud backup service becomes even easier. One console seamlessly manages all of your backup and recovery efforts regardless of the data's actual location, keeping management of your backup strategies easier than you could ever hope.
Online, Cloud-based Data Protection
Acronis stores files and system image backups at a remote, secure location to give Windows servers and workstations the additional protection they need against disaster or theft. No additional hardware investment is required. Recover Entire System, Single File or Folder Acronis image-based recoveries give you the granularity you need for any kind of recovery. Restore files or complete system images to any server or workstation, eliminating the need to match the underlying hardware.
Easy-to-use, Centralised Management
Administrators can establish online backup policies for workstations and servers using a powerful, wizard-driven user interface. Existing Acronis Backup & Recovery 11 local backup software seamlessly integrates with Acronis Backup & Recovery Online so you can manage both local and online backups from a single, centralised client console. Flexible Deployment
With Acronis you can implement a cloud-based backup solution without the need for expensive upgrades to your internal systems or annual licencing - pay a low monthly subscription for the data you need to store and adjust on a monthly basis depending on your needs.
Our cloud service with Acronis is highly prized by users of Acronis Backup & Recovery 11. As you can integrate the two backup solutions your ability to mix the backup solution to best suit your requirements is even greater, such as:
Two-layer protection of local backups for speed and performance coupled with redundant remote backups to guard against site outages
Deploy backup to systems that only require local data protection strategy
Deploy backup to systems that only require a cloud based data protection plan
Support for Cloud Backup of Virtualised Environments
Our Acronis solution supports the systems you have today and beyond, with agentless backup and recovery of VMWare and Microsoft Hyper-V virtual machines (VM) to the cloud.
Backup data for all Virtual Machines on a VMware® ESX server or Microsoft® Hyper-V server, and manage your virtual machines in the same way as physical devices from the same management console, including grouping and policy-based management.
Ready to take the next step? Contact us to hear how you could enjoy on-premise - to - cloud backup from Acronis.